HubTran Drives Back-Office Digitization;
Spins Off BravoTran to Focus on Freight Forwarding
Chicago, IL USA
July, 2021
By: Evan Armstrong
Key Personnel:
Matt Bernstein, CEO, BravoTran
Jordan Graft, President, TriumphPay
About HubTran and BravoTran
HubTran launched operations in 2015. Its founder Matt Bernstein had run Helix Logistics, a Domestic Transportation Management (DTM) Third-Party Logistics Provider (3PL). Helix was using a leading transportation management system (TMS) but found the freight bill audit and payment functionality was limited and a true "pain point". This led Bernstein on a path to develop a proprietary back-office "bolt on" application to fill the gaps. The resulting application automated many of the 3PL's back-office functions and dramatically improved operational efficiencies and became the foundation of the HubTran application.
HubTran has grown to be a leader in back-office automation serving approximately half of the Top 100 Domestic Transportation Management 3PLs in the U.S. 3PL users include Arrive Logistics, DSV, FLS Transport, ITS Logistics, Kuehne + Nagel, NFI, Ryder, WWE, and Yusen Logistics. Earlier this year, TriumphPay acquired HubTran for $97 million in order to combine its payments service with HubTran's automation platform. As part of that transaction, HubTran spun off BravoTran to create a new business focused on the International Transportation Management (ITM) 3PL segment.
The BravoTran spin-off was designed to leverage HubTran's successful technology model, while creating a company with solid expertise to focus on the complex freight forwarding industry. Similar to HubTran, BravoTran offers both streamlined document management and payables automation as core services.
A key aspect of the HubTran and BravoTran solutions is their pre-integration with off-the-shelf international and domestic focused transportation management systems (TMS), which include 3Gtms, Aljex, CargoWise, McLeod, MercuryGate, Revenova and TMW. This pre-integration enables customers to rapidly onboard with essentially no IT involvement. Both companies have also become experts in integrating with proprietary systems.
Automating Accounts Payables
Automating accounts payable is where Hubtran started building out its functionality which has expanded over the past five years. Both HubTran and BravoTran employ a simple dashboard and automated workflow to ensure each freight bill has the requisite documents for each shipment prior to paying the carrier. Each new freight bill awaiting payment is shown in the dashboard.
When someone clicks on the "Process This" button, they are taken to a processing screen which lays out the required information for payment.
HubTran and BravoTran receive scanned documents from carriers and also related documents for shipments from carriers using APIs (application programming interfaces) to carrier systems, digital robots, and automated logins to carrier websites.
HubTran/BravoTran OCR automatically reads documents and machine learning profiles document types, fields and expected entries. If information is missing, it can automatically be completed, or if errors are identified, the system can flag the document for further investigation.
The application automatically groups all the received documents into their respective shipments, assigns load/shipment and invoice numbers to the documents, and if complete, routes the documents and data into the transportation management system for payment. If there are exceptions such as lumper receipts, discrepancies in charges, or missing PODs (proofs of delivery), they are flagged in the HubTran system for further entry or validation. Individual truckload and less-than-truckload shipment freight bills can be processed, as well as statement-based billing.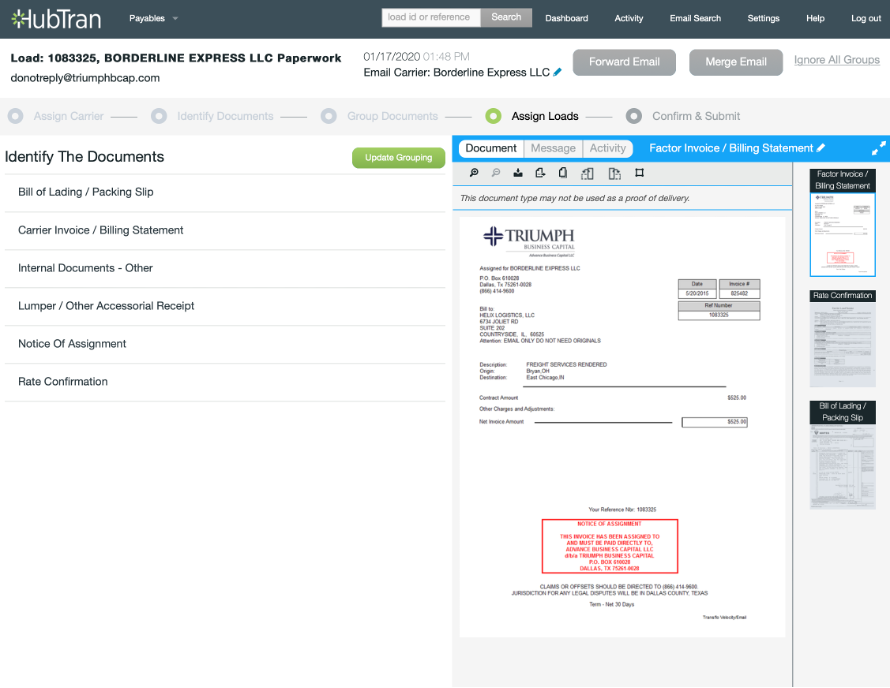 This automated processing typically starts off with an accurate completion rate of 80% meaning that users correct or complete approximately 20% of the payables processing. Within two weeks, machine learning usually improves this rate to 95% or more.
Throughout the accounts payables process, all work is performed within the HubTran/BravoTran system without having to reference a TMS. This automation has been shown to allow the faster processing of freight bills, higher payment accuracy, and timelier customer billing and improved cashflow. Carriers also appreciate the standardized workflow and automation. An example impact analysis provided by HubTran is displayed below, showing over a 50% savings.
According to Adrienne Magsino, Manager of Financial Operations at LoadDelivered Logistics, "I've gone from doing 50 invoices per day to 50 invoices per hour."
Automating Accounts Receivables
After years of automating accounts payables for 3PLs, HubTran identified accounts receivables as a process "pain point" where some TMS have limited invoicing functionality. Since the HubTran system automatically groups the carrier freight bill and related documents, it is easy to create an invoice within the HubTran system or extract them from a TMS for completion. Customer invoice information is then in turn sent back to populate in the TMS for each shipment.
As with accounts payables, HubTran uses an automated workflow approach for invoicing. It takes payment terms, billing intervals, and specific instructions into account. Customer specific documents can be added to support invoices such as bills of ladings / PODs, carrier freight bills, factor invoices, and lumper receipts.
Documents are automatically attached to the invoice and can be sent to customers using multiple delivery methods. Batches of invoices can also be processed using a check and click process.