Guangdong Goldjet International Logistics Co., Ltd.
Guangzhou, China Site Visit
January 27, 2014
By
Eric Xiang
Key Personnel:
Mr. Gao Meng, President
Headquartered in Guangzhou, Guangdong Goldjet International Logistics Co., Ltd. has branch offices in Beijing, Chongqing, Shanghai, Shenzhen, Wenzhou, Wuhan, and Xiamen in China, an office in Paris, France, and a total staff of 200.
As its founding business was air freight forwarding mainly serving the South China market, Goldjet Logistics is a top air freight forwarder in Guangzhou. Goldjet Logistics has Class A air freight forwarding license, a customs brokerage license, and an EEIQ (entry-exit inspection and quarantine) license. It contracts with the main airlines that operate international flights via the Guangzhou airport. Its annual cargo volume is around 12,000 tons for international air export shipments and 36,000 tons for domestic air shipments. Goldjet Logistics also handles around 2,000 TEUs (twenty-foot equivalent units) of ocean cargo annually.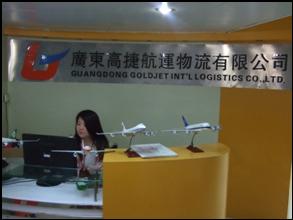 As a key air freight forwarder in Guangzhou, Goldjet Logistics has to cooperate with other logistics providers for cargo space control. About 80% of its cargo volume comes from direct customers and the rest comes from other third-party logistics providers.
Different than other local forwarders, Goldjet Logistics has a direct bonded trucking operation for flights on behalf of China Southern Airlines which runs between the Guangzhou airport and inland airports which include Changsha, Fuzhou, Kunming, Nanning, Wuhan, Xiamen, Zhongshan and Zhuhai. For example, on shipments from
Chicago to Wuhan, China Southern Airlines will ship the cargo from Chicago to Guangzhou, and Goldjet Logistics will transport the cargo from Guangzhou to Wuhan using bonded trucks. Return shipments are handled vice versa. This service is welcomed by the inland airports as there aren't any direct international flights for exports and imports. Goldjet Logistics also has a charter service with China Southern Airlines, which is key in the local China market.
Goldjet Logistics' customer focus is on SMEs (small and medium enterprises). This ensures solid growth for Goldjet Logistics, which also maintained steady growth during the past few years even during the economic crisis.
According to Mr. Gao Meng, Goldjet Logistics plans to expand business overseas. It has a nice start in Europe with an owned office in Paris. Business is developing very well there. As the next steps for expansion, Goldjet Logistics plans to set up owned offices in Los Angeles and Sydney as well.
With steady growth in the past and a good start in Europe, we hope Goldjet Logistics will have continued success in Sydney and Los Angeles. At the same time, Goldjet Logistics needs to concentrate on other areas such as ocean freight and warehousing and distribution, if possible.
Sources: A&A Primary Research, http://www.goldjet.com.cn/